SHOP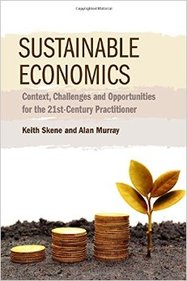 ANNOUNCING THE LAUNCH OF:

SUSTAINABLE ECONOMICS
Context, Challenges and Opportunities for the 21st-Century Practitioner

(2015) By Keith Skene and Alan Murray. Greanleaf Publishing, Sheffield, UK.


---
Available as paperback, hardback or Kindle.Why not Look Inside the book here.To order, just click on your favourite supplier below:UK: 1. Direct from Greenleaf Publishing2. AMAZON UKNorth America: 1. Direct from Stylus publishing Inc.2. Amazon Canada3. Amazon USA4. For all other countries, check your national Amazon website.
This book marks a milestone in Economics publishing. Sustainable Economics is
the
subject of the moment, as business across the globe face up to peak oil prices, climate instability, increasingly complex environmental legislation and the challenge of adapting to a new business landscape.
Sustainable Economics: Context, Challenges and Opportunities for the 21st-Century Practitioner
debugs the language of sustainable development. It explores the strengths and weaknesses of the many and diverse schools of thought. Targeted at enabling the modern business student and practitioner to disentangle the complex, often convoluted debate relating to sustainability, this book provides the tools necessary to lead organizations through the murky waters of current times and prepare for the challenges of the future.
Eschewing the linear – take, make and waste – approach of current business and manufacturing thinking,
Sustainable Economics
revisits the ecological models underpinning recent economic sustainability theory, and re-examines the consequences of modern ecological thought upon business strategies relating to sustainability.
The book is supported with a large array of teaching and learning material, for both formal and informal use, ranging from role play to data analysis. With its free-to-download online tutor pack,
Sustainable Economics
is an essential resource for the 21st-century business practitioner, tutor, student and legislator.
"A comprehensive, crisp and highly concerning account of current sustainability thinking and the most important schools of economic thought. It will equip anyone in business, or studying business and economics, to disentangle their industrial ecology from their circular economy, and make them seriously question their role in shaping the future."
Julie Hill, Green Alliance
"The book provides the reader with a framework to think for themselves about the complexities of the future, the challenges ahead, and why people can hold such different views.
This framework for thinking contains just about everything you will ever need to know about sustainability, development and economics. Although the audience is seen as primarily business the coverage of the history of the sustainability ideas is excellent and is recommended for novices and experts alike."
Ian Roderick, Director of the Schumacher Institute
"Prudence dictates that every business person - not only the students among us - read and heed what Skene and Murray have to say."
Crosslands Bulletin
TABLE OF CONTENTS OF SUSTAINABLE ECONOMICS
1. Human economic activity: an environmental impact assessment
1.1 Progress and the Golden Age
1.1.1 Human development
1.1.2 Issues with the growth dogma
1.1.3 Economic growth and a sustainable future: having your cake and eating it
1.1.4 Sources and sinks
1.2 A brief history of planetary exploitation
1.2.1 The four ages of planetary exploitation
1.2.1.1 The Hunter-Gatherer Age
1.2.1.2 The Agrarian Age and the urban revolution
1.2.1.3 The Industrial Age
1.2.1.4 The Information Age
1.2.1.5 Summary of the ages of humankind
1.3 What is perturbed, why and the consequences
1.3.1 The three arenas
1.4 Debate, discussion and further thought
References
2. The three horsemen of the modern apocalypse: climate, pollution and habitat
2.1 Climate destabilization
2.1.1 Sceptics
2.1.2 Impact on business and security
2.1.3 Key climate destabilization conferences and outcomes
2.1.3.1 UN Conference on the Human Environment, Stockholm, June 1972
2.1.3.2 United Nations Conference on Environment and Development (the Earth Summit) Rio 1992
2.1.3.3 Kyoto 1997 (COP3)
2.2 Non-greenhouse gas pollution
2.2.1 Agricultural fertilizers
2.2.2 Economic costs of eutrophication
2.2.3 Positive feedback
2.2.4 Politics
2.3 Habitat destruction and exhaustion
2.3.1 Deforestation
2.3.2 Coral reefs
2.3.3 Wetlands
2.3.4 Resource exhaustion
2.3.5 The Hubbert Curve: a history of peak oil
2.3.6 Peak minerals
2.3.7 Peak lithium
2.3.8 Peak platinum and uranium
2.3.9 Peak phosphorus
2.3.10 Peak soil
2.3.11 Peak timber
2.3.12 Peak fish
2.3.13 Peak people
2.3.14 Nonrenewable renewables and renewable nonrenewables
2.4 Debate, discussion and further thought
3. Water, energy and the green paradox
3.1 Water: the perfect storm
3.1.1 Water security
3.1.2 Virtual water: flow and trade
3.1.3 Water footprint (WF)
3.1.4 Groundwater footprint
3.1.5 Soft and hard paths
3.1.6 The water footprint of energy supply
3.2 The centrality of energy
3.2.1 The centrality of energy
3.2.2 Energy security
3.2.3 Energy and economic growth
3.2.4 Carbon trading
3.2.5 Personal carbon trading (PCT)
3.2.6 Reducing energy demand
3.2.7 The true cost of cheap oil
3.3 The green paradox
3.3.1 The green paradox
3.3.2 The Porter Hypothesis
3.3.3 The Red Queen and the Porter Hypothesis
3.4 Bridge case
3.5 Discourse—the great controversies
3.5.1 The Environmental Kuznets Curve (EKC)
3.5.2 Can economic growth lead to environmental improvements?
3.5.3 Humpty Dumpty and the EKC
3.6 Debate, discussion and further thought
4. Business and biology: can we learn from nature?
4.1 A brief history of ecology
4.1.1 Reductionism v emergence
4.1.2 Form v function
4.1.3 Balance
4.1.4 Circularity and cycles
4.2 The three ages of ecology
4.2.1 The Age of Static Equilibrium
4.2.2 The Age of Non-equilibrium
4.2.3 The Age of Ecological Thermodynamics
4.3 Biosphere function: how do the pieces fit together?
4.3.1 Neo-Darwinian theory
4.3.2 Gaian theory
4.3.3 Thermodynamic theory
4.4 Implications for economics
4.4.1 Resource/waste issues
4.4.2 Micro- and macroeconomics
4.4.3 Economic growth
4.4.4 Economic cycles
4.4.5 Economic succession
4.4.6 Management
4.4.7 Resilience
4.5 Debate, discussion and further thought
5. Current schools of sustainable thinking: origins, strengths and weaknesses
5.1 Introduction
5.2 Waste is food
5.3 Industrial ecology
5.4 Intra-firm industrial ecology
5.4.1 Clean technology
5.4.2 Cleaner production
5.4.3 Design for environment and ecodesign
5.4.4 Life-cycle assessment
5.4.5 Green chemistry
5.5 Inter-firm industrial ecology
5.5.1 Industrial symbiosis
5.6 Regional level industrial ecology: industrial metabolism
5.7 Weak and strong sustainability
5.8 Environmental economics
5.9 Ecological economics
5.10 Free market environmentalism 5.11 Closed-loop economy and Cradle-to-Cradle™
5.12 Biomimicry and natural capitalism
5.13 The blue economy
5.14 Post-development
5.15 Communalism
5.16 Localism
5.17 Pluralism
5.18 Buen vivir
5.19 Comparative economics
5.20 Emphases of different schools
5.21 Political emphases
5.22 Journals
5.23 Debate discussion and further thought
6. The circular economy
6.1 Semantics and substance
6.1.1 The biogeochemical cycles
6.2 A range of definitions
6.2.1 Emphases within the three pillars
6.3 Origins and meaning
6.3.1 The origin of the circular economy
6.4 The circular economy in China
6.4.1 12th Five-Year Plan
6.4.2 Indicators
6.4.3 South Korean programme
6.5 Western approaches
6.6 Issues with the circular economy
6.6.1 Confusion with semantics
7. Design to redesign
7.1 Introduction
7.2 A brief history of design and sustainability
7.3 Design as a driver of economic growth
7.4 Designing what? The seven levels of design
7.4.1 Product design
7.4.2 Process design
7.4.3 Supply chains
7.4.4 Systems design
7.4.5 Architecture and construction
7.4.6 Urban design
7.4.7 Corporate design
7.5 The process of design: conceptual, cognitive and detailed design
7.6 Difficulties in sustainable design
7.7 Bridge case
7.8 Debate, discussion and further thought
8. Generic barriers to change
8.1 The challenge of change
8.2 The psychology of change
8.2.1 Limited cognition
8.2.2 Ideology
8.2.3 Comparisons with other people
8.2.4 Sunk costs
8.2.5 Discredence
8.2.6 Perceived risk
8.2.7 Rebound effect
8.3 Fundamental issues I: knowledge barriers
8.4 Fundamental issues II: co-ordination barriers
8.5 Fundamental issues III: financial barriers
8.6 Fundamental issues IV: policy framework barriers
8.7 Fundamental issues V: technological barriers
8.8 Fundamental issues VI: organizational barriers
8.9 Fundamental issues VII: consumer barriers
8.10 Fundamental issues VIII: legislative barriers
8.11 Other barriers
8.11.1 Carbon lock-ins
8.11.2 Barriers to investing in natural capital
8.11.3 Barriers to recycling
8.11.4 Barriers to green procurement of services
8.11.5 The business case for sustainability
8.12 Debate, discussion and further thought
9. Transition to a sustainable economy
9.1 Introduction
9.2 What is transition?
9.3 What kind of a transition: a sustainable future?
9.3.1 Economic growth v de-growth
9.3.2 The place of technology
9.3.3 Globalization v pluriverse
9.3.4 Our carbon fixation
9.4 The mechanics of transition—transitional models
9.4.1 The Dutch model
9.4.2 The Viennese school
9.4.3 Transition by evolution
9.5 Transition management
9.6 Debate, discussion and further thought
10. Appropriate indicators of a sustainability transition
10.1 What is an indicator?
10.2 Challenges of indicating sustainable transition
10.3 A single indicator of transition?
10.3.1 Some current indices
10.4 Major issues
10.4.1 Time-lag
10.4.2 Decoupling
10.5 Examples of indicator failures
10.6 What makes a good indicator of transition?
10.7 Debate, discussion and further thought
ESCAPE FROM BUBBLEWORLD: SEVEN CURVES TO SAVE THE EARTH
This book sets out an original and radical agenda for sustainability, introducing a new philosophy for survival and providing a positive environmentalist message for humankind. Check out the latest review at Bookbag. All copies bought from us are signed and dated by the author. You can request a particular message, such as "To Roy on your Birthday"
Order now, from Paypal below. Currently 50% cheaper than elsewhere.
Also available from Amazon (UK) and Amazon (USA)
Kindle version
now available. Just click on UK, USA, Italy, Spain, France or Germany to go directly to Amazon
SHADOWS ON A CAVE WALL: A NEW THEORY OF EVOLUTIONSigned copy of this classic work, combining philosophy, physics and biology to produce a radical explanation of biological evolution and what makes our planet work the way it does. Popular science at its best. Read a review here.
70% reduction in price including free P&P.Also available at Amazon (UK only)
PUTTING COLOUR INTO YOUR CURRICULUM I: THE PROTEIN GAME< THE CONMAN SIMULATION AND MONKEY BUSINESS
Perfect gift for a secondary school biology teacher, or if you are such a hero, why not treat yourself! Three fun role play games covering key areas of the curriculum in biological chemistry, environmental studies and animal behaviour. All support material included, with a DVD of primate behaviour shot in the Nariva Swamp in Trinidad.
Normally £40, cut to £20 including postage and packaging.
Also available from Amazon (UK ONLY) for £40.00